Clutch Recognizes WebiMax As Top New York Digital Marketing Company
WebiMax PR Team, February 17, 2020 at 9:45 AM
With the accumulation of multiple five-star reviews from current clients, WebiMax was ranked as the top New York Digital Marketing Company on Clutch.co. Under the guidance of founder and CEO, Ken Wisnefski, WebiMax has established a global presence through our SEO, PPC, Reputation Management, Social Media, Web Design, Consulting, and Lead Generation services.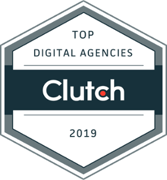 Clutch.co is dedicated to utilizing data-driven analysis to help businesses find the best firm for their projects. The founders of Clutch.co were able to identify that market insights to guide businesses to sound decisions were often limited and unorganized. In order to provide accurate advice, Clutch.co interviews actual clients, collects data and compares competitors in the industry. When it comes to digital marketing agencies around New York, WebiMax is proud to sit atop the mountain.
Wisnefski credits WebiMax's success to the company's ability to evolve with the changing times in the digital landscape.
"11 years ago, Facebook was just really coming to prominence, the term social media was entirely new, and the iPhone had just been introduced. Now Facebook, social media and smartphones are some of the most vital aspects in effective marketing, so while other companies in our space failed to evolve, our ability to continue to stay ahead of the curve has really proven to be imperative to not only our success but our survival."
Every WebiMax client has a different path to achieving their goals, which is why WebiMax provides monthly custom strategies to yield the best results. To learn more regarding the digital marketing services offered by WebiMax, click here.