WebiMax is a 5-Star Digital Marketing Agency!
WebiMax PR Team, February 19, 2020 at 1:08 PM
You probably know that we live in a time of unprecedented technological advancement. Just think about how different technology was just two decades ago — no smart phones, no flat screen TVs, no streaming!
You also probably know that keeping up with technology is critical to your business's success. But have you considered that it's just as important to know the latest digital marketing trends and approaches? Today's landscape is constantly changing — and if you want your business to succeed in 2020, you'll need to keep up.
WebiMax is here to help. We utilize agency-level tools, proven strategies, and the latest marketing insights to provide the highest ROI. Our mission is to help our clients grow by working with them as a strategic partner, not just another outsourced vendor.
We're pretty proud of the fact that 97% of clients rehire us every month — and that The Manifest lists us among the top 20 SEO companies in Philadelphia! The Manifest is a business news and how-to website that compiles and analyzes practical business wisdom for innovators, entrepreneurs, and small and mid-market businesses looking to find project partners. Our profile on The Manifest gives a brief description of our services as well as our notable projects and clients.

We're also a 5-star agency on Clutch, The Manifest's sister site and a B2B ratings and reviews firm in the heart of Washington, D.C. We joined Clutch because we recognized the value that potential clients could procure from the platform; having access to unbiased and incredibly detailed reviews is important to many buyers in today's market.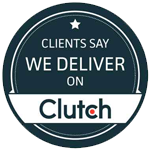 We work with clients of all business sizes and industry types, and our reviews on Clutch demonstrate that. One of our reviews came from a private liberal arts college. They needed help from someone with expertise in the digital space, and we came 'highly recommended.' The college was impressed by our proposal, which took into account their budget while showing our digital marketing expertise. They knew we were the right company for the job, and we got to work.
Our team created a cost-effective digital strategy to increase the exposure of the college's programs. We've built out SMM, PPC, and SEO campaigns for them, and we've designed banner ads, landing pages, social media ads, and other assets. Here's what the client had to say about the impact of our work:
"Within four months, WebiMax helped us generate enough interest to successfully launch one of our graduate programs. Plus, they understand our limitations and work with us to stay within budget." — VP for Enrollment, Private College
They commend our smooth workflow, reception to feedback, and expertise. The client also appreciates that our CEO takes the time to ensure that they're satisfied with the work.
We're always looking for new ways to add value to our clients' business, so it means the world to us when clients speak to the results we deliver. Beyond SEO, PPC, SMM, and local marketing, our services span reputation management, website design, and online PR. We'd love the opportunity to discuss our many offerings and figure out how we can accelerate your business. Please give us a call or fill out our contact form!