Matt Haran, July 12, 2018
Facebook conversations have been BOOMING as of late. From the congressional hearings with CEO Mark Zuckerberg on their data scandal to the "trendy" TV ad campaign that most of you have probabably seen a number of times. All their recent exposure has caused the online social media company to make a lot of updates to their 2.2-billon user-based platform. Their updates are particularly targeted at getting their users to trust the platform once again and stop the spammers from abusing the platform.
Keep in mind, some of these updates took place a few months ago and others a couple weeks ago. We're just making sure you are aware as well. :)
Users Can See All Ads a Page is Running
Well, this is very interesting, to say the least. Regardless of targeting, Facebook users can now see all the ads a Facebook page is currently running. This includes Instagram, FB Messenger, and the partner network. Just hit "Info and Ads" when you are on a Facebook page. See below!
On Mobile: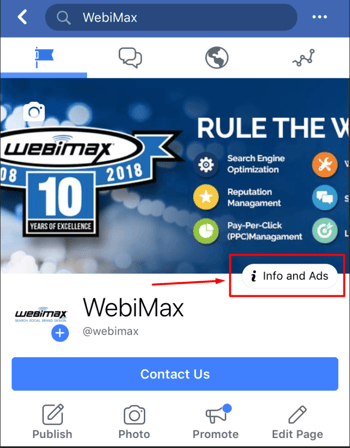 On Desktop: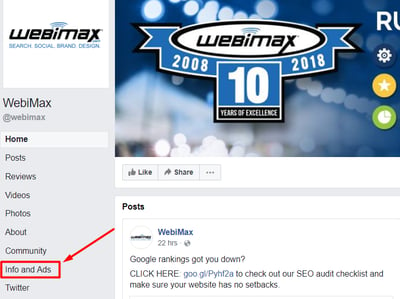 This just shows that Facebooks is trying to be more transparent with their users and the ads that pages run. Facebook believes that if they can shine a light on all ads it could help stop the people that are abusing their platform.
"These steps are just the start — we're always looking for more ways to improve. By shining a bright light on all ads, as well as the Pages that run them, we'll make it easier to root out abuse – helping to ensure that bad actors are held accountable for the ads they run."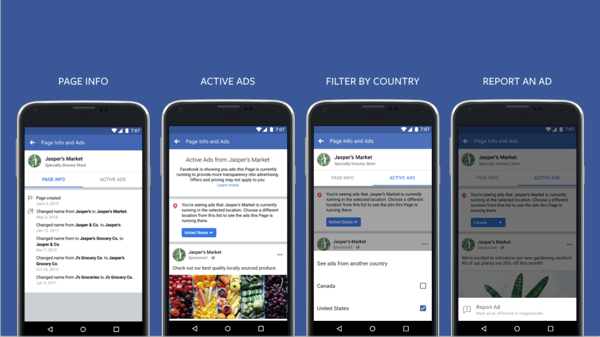 Facebook also says they will be adding even more information for users to see in the near future. Information such as recent name changes of a page and the date a page was created.
No More 3rd Party Ad Targeting Options
A direct response to their data scandal, Facebook announced it will be removing third-party ad targeting options which are built into their advanced audience options. This includes supplemental audience data from companies like Axiom or Experian. Known as Partner Categories, these ad options can be great when looking to target users based on the actions they take outside of Facebook. Although this is a very common tactic in the advertising world, Facebook was linked to an entity using these powers in a nefarious way, so they got into trouble.
New Requirements for Custom Audience Targeting
Another action to ensure responsible targeting is requiring advertisers to specify the origin of the people's information when uploading a new custom audience. Custom Audiences is another targeting method that lets advertisers target groups of people they've already engaged with such as a list of email addresses. These targeted individuals may not know why they are being targeted in the first place and so Facebook wants to make it clearer as to why they are targeted.
Advertisers will now have to specify the origin of the audience's information and agree to Facebooks Custom Audiences Terms when they upload a new customer file. Advertisers need to specify whether the information was collected directly from people, provided by partners or a mixture of the two.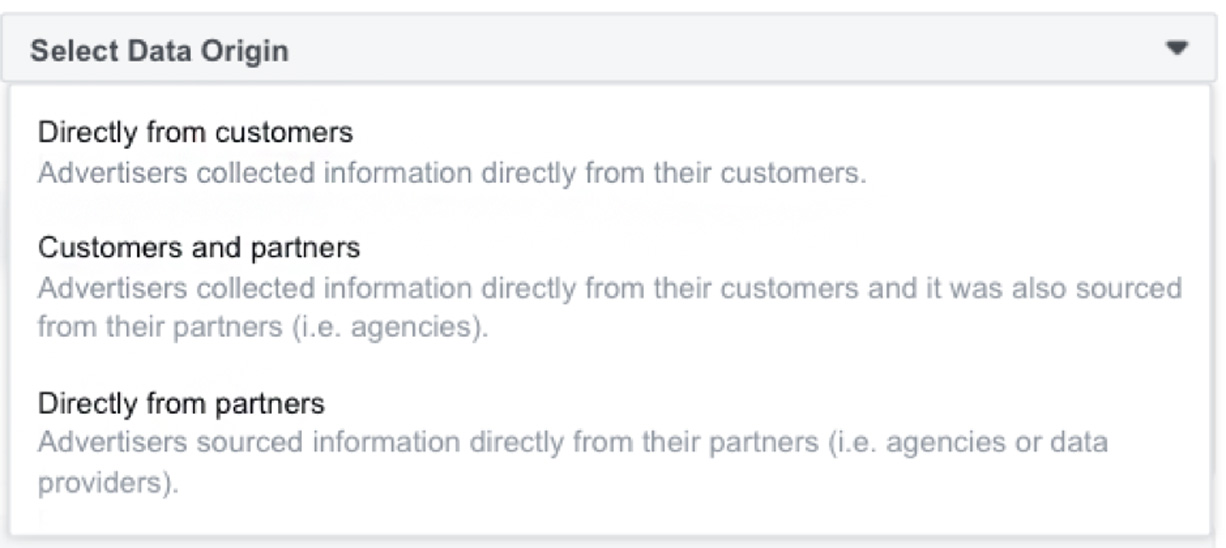 This is just another step for Facebook to get their users to trust them and improve transparency.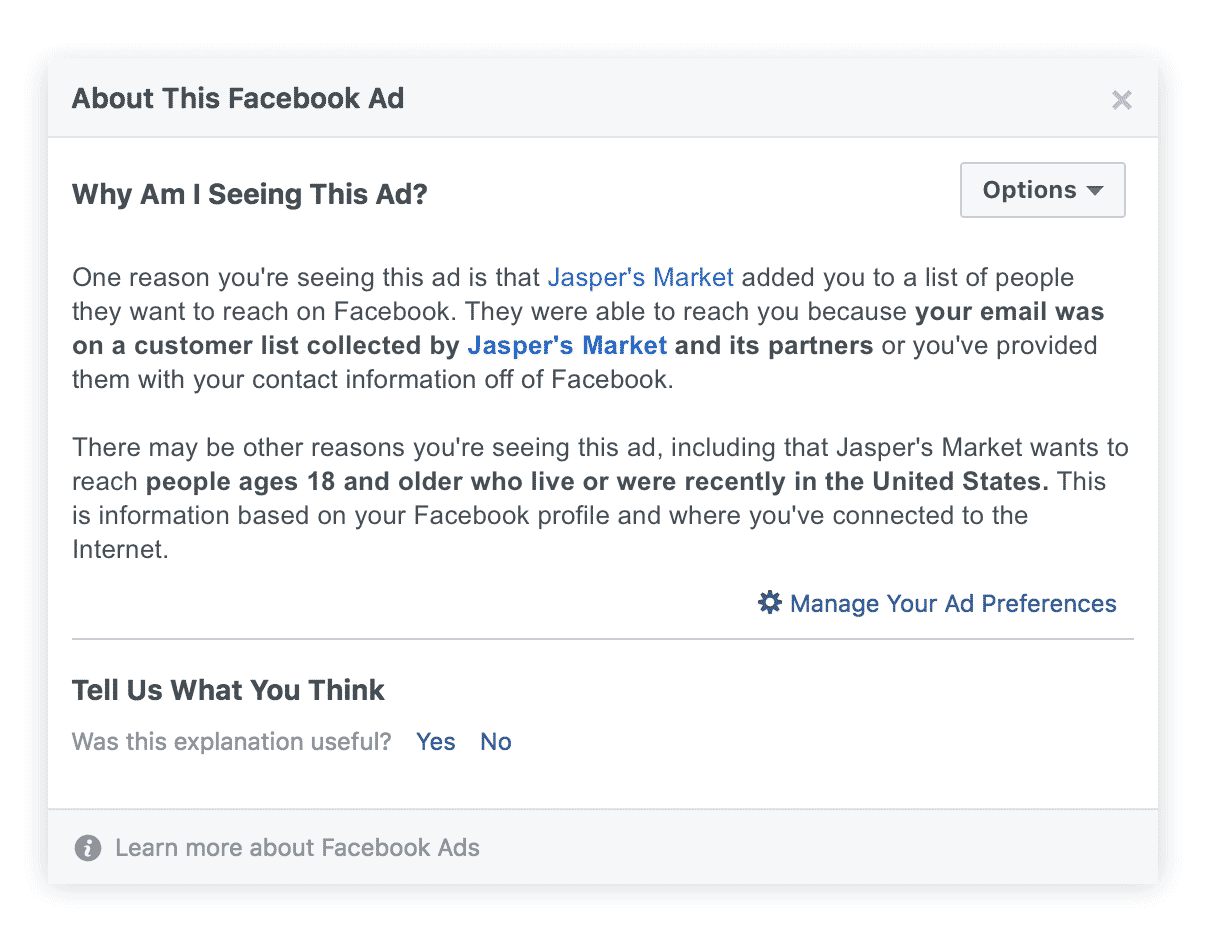 Poor Customer Feedback Can Lead to an Advertising Ban
Be careful! Facebook has implemented a new user feedback system that can result in a business getting banned from advertising if they don't meet certain levels of customer satisfaction.
Another step to a better Facebook, customers can send feedback directly to Facebook about their experiences with businesses and their ads.
On the plus side, Facebook will let the business know before the ban that they are receiving negative feedback. Thanks, Facebook! At least you get the chance to improve before they take further action.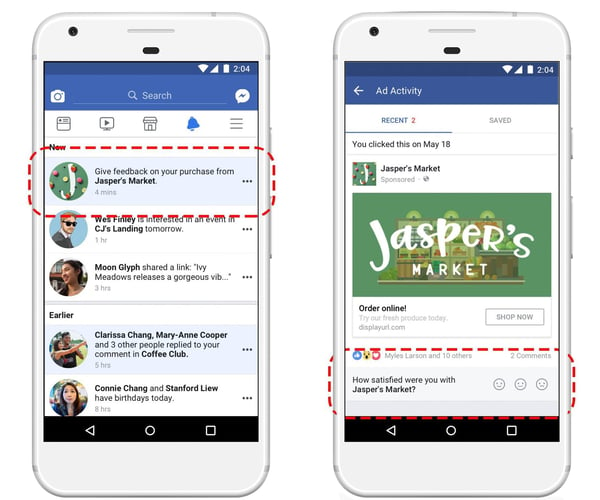 If the business continues to get negative feedback then Facebook will first reduce the number of ads the business can run and then eventually get to the point of getting banned.
In the end, just make sure your ads are not misleading to your customers. We don't really envision most businesses running into this problem anyway but definitely worth pointing out.
Facebook Ads Can Now Appear in Marketplace
Businesses can now advertise in Marketplace to reach people where they're actively shopping using traffic, conversions, and product catalog objectives. Although not a direct response to a safer and more transparent Facebook, this update is a great improvement for advertisers. To top it off your ad doesn't have to be e-commerce related, it can be anything.
"Marketplace is the perfect place to drive membership for our subscription boxes. We've seen lower cost per acquisition for campaigns that include Marketplace and have opted into this placement for all of our campaigns."
Alyssa Perry
Acquisition Marketing Director, FabFitFun
These ads will appear alongside other products and services. Their setup is quite simple too.
Wrapping It Up
It is pretty clear that Facebook is trying to improve their platform mainly for their users but they want to make it suitable for their advertisers as well. Their improvements for advertisers come at a cost though. In order for Facebook to improve it for their users, they need to put the advertisers in line. It was their advertising that got them in trouble in the first place.
Overall, Facebook is still a powerhouse in the social media advertising space and it looks like they are here to stay. We touched on that in our previous blog post, check it out here.
If your business is looking to take online marketing to the next level and see an ROI from Facebook then contact us to learn more about how we can help.