Ad Targeting by Major Credit Card Companies?
John Borkowski, November 1, 2011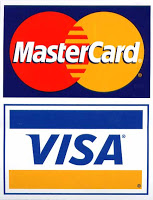 Reports surfaced this week that two of the major United States credit card holders, Visa and MasterCard, are exploring the opportunities of ad targeting for this customers (and potential customers). The process would include both major carriers gathering customer data to deliver dynamic ads to their customer-base and those who are not yet holders of their accounts.
The companies will use targeted data including recent purchases based on the consumer buying behavior to send product promotions and offers to the buyer. comScore stated in a recent press release that 32.5 million Americans access mobile banking. Similar to how a targeted ad would operate under a pay per click campaign, the credit card holders will gather data from purchase. Privacy concerns arise, however, as credit card purchases is a dramatically different environment than target ads on search engines.
Both companies have stated that as of present, they lack the technology to make this work in the short term, but admit that these are realistic opportunities they are pursuing. More data, as it becomes available, will be posted.