WebiMax Raises an Additional Round of Funding - Adds Seasoned Entrepreneur Kevin O'Brien to Management Team
John Borkowski, March 23, 2011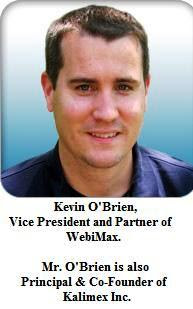 Kenneth C. Wisnefski
, Founder and CEO of WebiMax, the nation's #1 rated search engine optimization (SEO) company, announced today that
WebiMax
received an undisclosed amount of private equity financing to expand operations. Seasoned Entrepreneur
Kevin O'Brien
, Principal and Co-Founder of
Kalimex Inc.
(a general construction company based in Ocean View, NJ) has been appointed Vice President and Partner.
"Our success in raising private equity has helped us continue to rapidly grow, allowing us to expand much of the proprietary technology we utilize to assist our clients with deeper analytics", says Wisnefski. "The appointment of Mr. O'Brien has introduced another addition of professional experience, helping our company gain further profitability by allowing me to focus more on the growth and expansion opportunities presented to WebiMax, while Mr. O'Brien focuses on the financial performance and review of the company", concludes Wisnefski.
Mr. O'Brien's roles consist of managing the company's overall operation including staff management, financial growth and business development.
"At WebiMax, I will bring to bear the business skills that I have garnered during 15 years of growing my nationally award winning general construction company to an industry leader", says O'Brien. "I am extremely thrilled about the business sector in which WebiMax operates, and the high quality services that it provides. I look forward to building on WebiMax's current successes and guiding it to become the 'Gold Standard' and clear leader in the industry", concludes O'Brien.
WebiMax is off to a fast start to fiscal 2011. The company continues to receive various distinctions including multiple #1 rankings of their vast product portfolio by TopSeos.com, the independent authority on ranking internet marketing organizations. The company announced a new client center and analytics platform in February that allows clients of WebiMax to view data related to their online marketing campaign in real-time.
In addition, Wisnefski recently addressed the company notifying that "due to our tremendous growth in revenue, client demand and retention, and success in accumulating private equity financing, WebiMax plans on opening offices in Boston, MA, New York, NY, Los Angeles, CA, and London, England in 2011.