WebiMax Named Top PR Firm by Clutch.co
Matt Haran, December 10, 2018
Public relations is an evolving industry, which has been dramatically affected by the advent of the digital age. Because the marketing, branding, and public relations industries act in conjunction with everyday events, agencies like us need to be on top of major news and trends in the PR industry and quick with all of our actions. Our clients know that having a PR firm that is prepared is essential.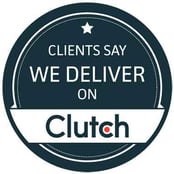 Clutch, the online ratings and review firm, compiles client testimony, case studies, and objective quantitative information in order to gain a clear and concise understanding of companies of marketing and public relations agencies throughout the world. When we heard that Clutch named WebiMax one of the leading PR firms in Philadelphia, we were thrilled to be recognized in such a competitive area.
Public relations is an old and difficult industry to break into, and it is one of Clutch's fastest-growing research segments. The Manifest, Clutch's sister site and an excellent purveyor of B2B news, recently named WebiMax as one of the leading public relations firms in Philadelphia. The quality of our work speaks for itself, but our clients speak even louder than our work, so we have highlighted some of their comments below:
The VP for Enrollment at a Private College was overjoyed with the experience of working with our team. He said, "It says a lot that their CEO takes the time to call and see if I'm satisfied with their efforts. The overall expertise of the people I've worked with has been impressive as well."
He emphasized, "Within four months, WebiMax helped us generate enough interest to successfully launch one of our graduate programs. Plus, they understand our limitations and work with us to stay within budget."
Founded in 2008, we are a leading digital marketing firm that provides a wide variety of services targeting the online sphere. With headquarters just outside of Philadelphia, WebiMax is a dynamic and ever-growing firm that holds one principle above all else: to help clients until they are more than satisfied. We are excited to continue to offer more services and excel in a variety of industries and service areas!