eMarketer: "Mobile Ad Spending to Surpass $1 Billion in 2011"
John Borkowski, October 5, 2011
eMarketer, the industry leader in marketing research, predicts that advertisers will spend $1.23 billion on mobile advertising through the end of 2011. This analysis is up from $743 million last year, and forecasts the number to well-surpass $4 billion by 2015. The dramatic increase in this industry is in direct relation to the emergence of smartphones. eMarketer also suggests that 38% of US mobile users have a smartphone in 2011, and 41% use mobile internet at least once per month.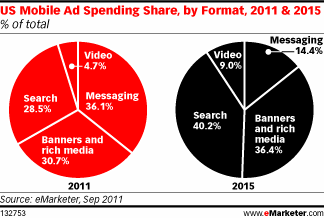 Not only is the smartphone industry growing at a rapid rate, providing the demand for mobile advertising, companies are continuing to shift away from costly outdated marketing tactics that were once useful. Once, prior to the iPhone and Android smartphones.
The emergence of lesser expensive advertising channels including search engine marketing, local search, and most importantly pay per click advertising have dominated the advertising industry over the recent years, with a promising upward trend to continue. eMarketer also stated that the increase in smartphones parallels the increase in mobile ad spending. See our tips for selecting the best PPC company.
By 2015, mobile ad spending on messaging is expected to decrease while inversely, video advertising is projected to rise dramatically. This is also due to the advanced video capabilities smartphone developers are releasing.